Porsche 914/6 Production History
A lot of owners, in fact over 100,000 would eventually conclude that the Porsche 914 was worth its price. But given its VW engine, some marque fans found it hard to accept the 914 as a "real" Porsche.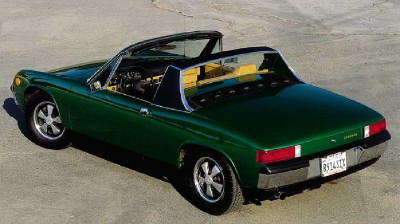 Zuffenhausen was uncomfortable with that, too, and thus decided to make the Porsche 914 a real Porsche in fact as well as name. The result appeared in late 1970 as the 914/6 (at which point the four-cylinder model informally became the 914/4). Powered by the 2.0-liter 110-horsepower flat-six from the 1969-model 911T, with capacitive-discharge ignition and twin triple-choke Weber carbs, it came with 5.5-inch-wide five-lug wheels (distinctive 10-spoke light-alloys were available), plus suitably fatter tires and ventilated front brakes. Amenities were also more generous: 911-style full instrumentation (with 150-mph speedo and 8,000-rpm tach), three-speed wipers and electric washers (the latter replacing a foot-operated bulb type), dual-tone horn, and a vinyl covering for the basket handle.
Built entirely by Porsche and badged as such in all markets, the Porsche 914/6 sold for better than $2500 more than the four-cylinder car, about $6100 in the United States and was thus even more difficult to sell. To no one's surprise, it was quietly canned after 1972 and only 3351 examples.
Brief History of CHASSIS NUMBER: 9140431347
Chassis 9140431347 is a genuine factory 914/6 originally supplied to Porsche Finland in April 1970 and finished in Irish Green over black Leatherette. The only options noted on the COA were a compact steering wheel 380mm and rectangular fog lights in white.
There is not a great deal known about the early history of this car other than it left Finland for the US where it spent most of its life. The car was recorded on the Porsche 914/6 Registry as being located in 2005 in Pleasanton, California .
In 2006 the car was brought into the UK and during a 2 year period significant works were undertaken by Porsche specialists Historica and BS Motorsport. All works carried out are fully documented in the cars history file.
In 2010 The car was purchased by Armin Knüpfing of Knüpfing Motorsport. Porsche specialists Knüpfing Motorsport have restored, raced and maintained a significant number of original Porsche Works Factory Race Cars including several 914/6 GT's.
Although the car is a genuine factory 914/6, it is not an original 914-6 GT. However the steel fender flares that are fitted to the car are in fact OEM, genuine Porsche parts. The six does not have it's matching number engine, but it does have an original 2.0 litre 914/6 engine with the correct and proper Magnesium engine crankcase.
The engine was supplied, built and fitted by a ex-Porsche Werks Specialist, Knuepfing Motorsport and has been built to full race specification and fully documented.
Brief Details of the 914/6 GT Build
Built by Knüpfing Motorsport, Historica, BS Motorsport and currently prepped by Export 56
Full Race Engine by Knüpfing Motorsport
NOS Factory GT panels and parts
Race spec fuel cell
Custom made high flow aluminium oil coolers
Black series power fleck both Arms tall suspension
Braided brake lines all round
Adjustable brake bias valve
Bridgestone PO7ENZA S-02 Tyres 4
Minilights 75×15 Front and 8J x15 Rear
3 Branch manifolds all equal length
MSD ignition complete with MSD coil packs amplifiers and electronic distributors.
3 Spoke prototop steering wheel
Reinforced roll cage
Facet fuel pump complete with malpassi filter and regulator
Sandler 4-point harness with quick realise
Bilstein front and rear shocks
Reacro bucket seat
Rear arms have black series powder flex bush
Rear arms are balanced with support arms and reinforced
Front and rear sway trays
High tensile wheel studs
Rear arms are balanced with support arms and reinforced
Lexan plexiglass windows
We are happy to assist with acquiring FIA HTP papers for this special car and support the new owner with European race support. Please contact us for further information. 
For more information about this Porsche 914/6 race car for sale in Newport Pagnell, or to arrange an appointment, please contact our sales team on 01908 216661 or 07956 349877.
UK registered with MOT and historic vehicle tax status, ready for immediate use on the road or race track.